Everyone is aware of meta values for better SEO of the website. But do they really matter today? Yes, they still do, yet in not so direct way.
Let's sort out all the things and find out why you need metadata and how to optimize your store for search engines, not being super proficient in SEO.
What Meta Tags for?
Being mostly invisible on your web store, meta tags provide information about your pages to search engines which in their turn present them to potential customers in SERPs.  We enumerate just some most important issues you can do:
Form a customized snippet. These tiny texts will be shown in the search results. The better and to the point you describe what your page is about the more your chances to stick out in the search results.
Increase CTR. You have just a fraction of a second to make an impression. Make your customers click through to your website with a good meta title and description. This may increase the traffic to be converted into sales.
Attract customers in social networks. When you place a link of your product on most social accounts, you should care about enticing description which is taken with adding links.
Yet to achieve real results you need to follow some guidance. There are a bulk of articles devoted to giving advice on how to fill meta values. We've generalized and described the most frequent ones.
Read on to discover step by step what you need in your on-page SEO and get to know about each tag in particular.
H1 Tag
The H1 tag is usually the first text element that visitors see on a page. It is at the top of the tag hierarchy. The H1 tag is often formatted differently than other minor page tags so that its text can stand out.
The title tag is a strong indicator for search engine robots to tell what the page content is all about. By using keywords in your H1 tag and other headings, you can make a difference in your rankings, if selected correctly.
Size. The length of the H1 tag is up to you. Yet, you can use long-tail keywords.
So, for best results in on-page SEO, you should optimize both the H1 tag and the page title.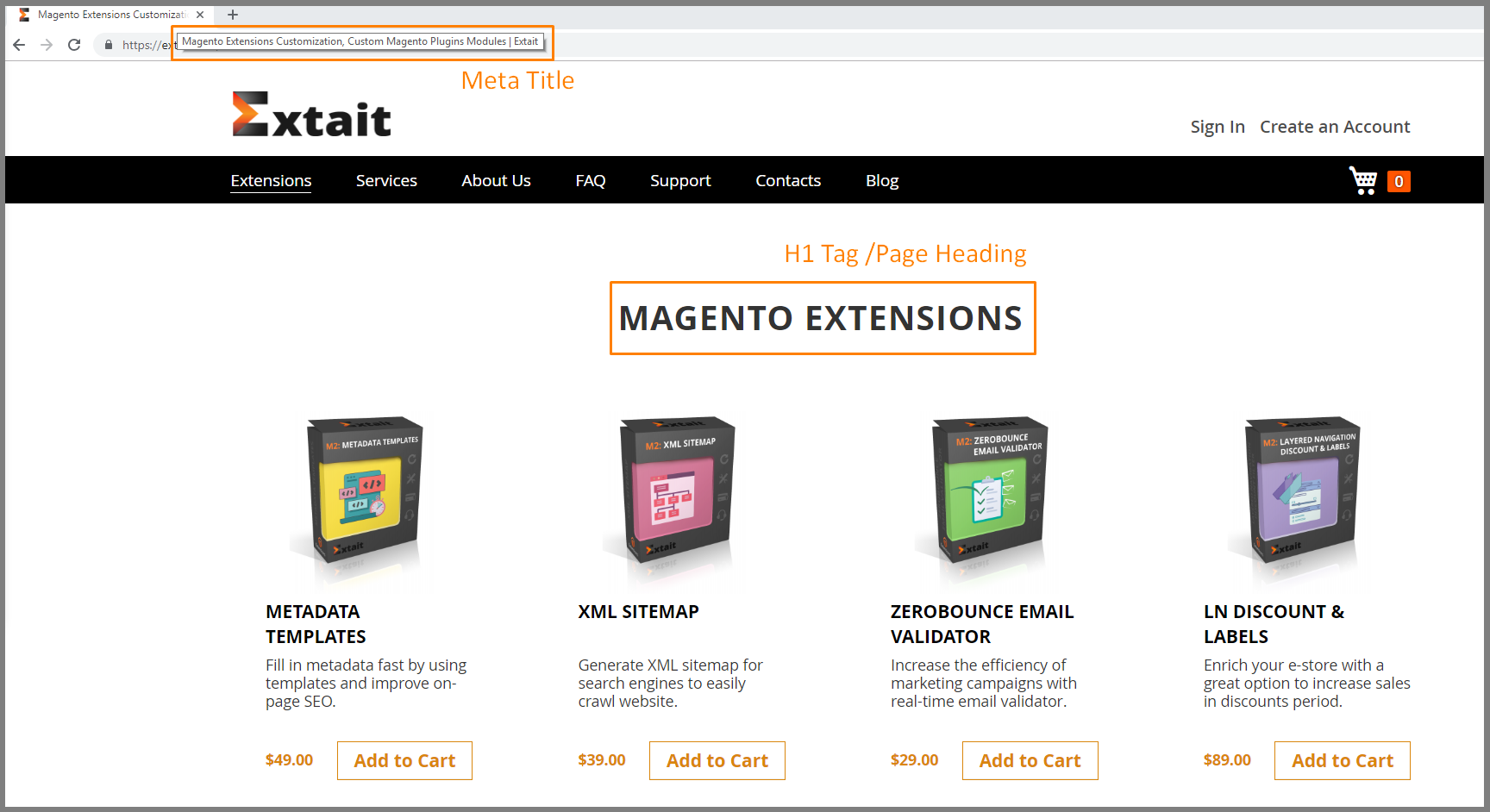 Meta Title
When it comes to on-page SEO, you should differ the H1 tag and the meta title of a page.
The meta title tag is shown in the search engine result pages (SERPs). It is used as the main heading of the snippet, see the image below. As well, the meta title is shown in the browser title.
With the help of title tags, you can engage your potential customers to appear on your website. The meta title is shown both in the SERPs and in the posts shared in social media. So, the title text should provide a clear idea about your page content. This is important not only for the website visitors but also for search engines. The title should have the sense and not consist of separate words.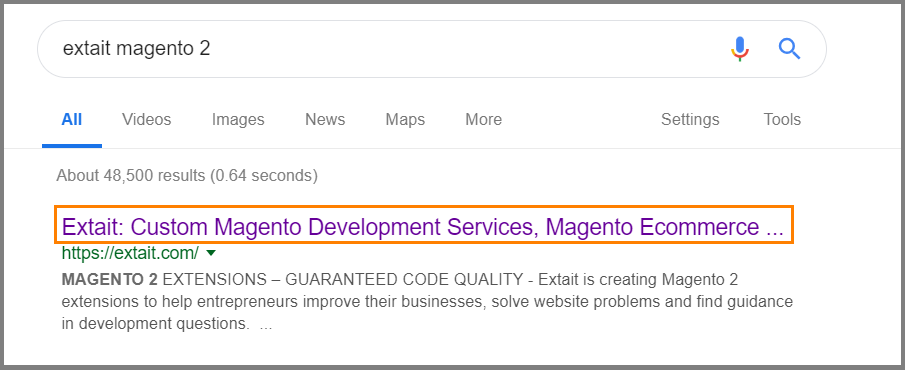 Add keywords, this might raise your position in search results. Put them at the beginning to immediately grab users attention from the first words. The more clicks through you have, the better influence on your ranking is.
Include numbers in the title to make the text catching and thus increase their CTR.
If your brand is recognizable, place its name at the end. Yet, if you are developing, it's not recommendable.
Size. Remember that search engines cut too long lines; enter no more than 55 characters.
Meta Description
Make up a concise and accurate summary of your page content in the meta description. Provide those details about your product/content that can make it appealing for users to click in SERPs and go to your e-store.
Size. This tag provides a preview of your content. The length for meta descriptions is between 150-165 characters. Too long will be chopped and too short will not be shown. Find your happy medium.  
You must admit that entered meta descriptions are not always shown by a search engine. It can pick out some other lines from your page content if they are considered more appropriate for the searcher.
Meta Keywords
About 10 years ago, search engines stopped paying attention to keywords when ranking sites. Now, these tags are accounted only to determine the subject of the page. Nevertheless, keywords help search engines to match relevant pages with a search query.
In the SEO context, keywords are words or phrases that summarize user thoughts, questions, or needs. If you have multiple categories you can use its subcategories names, e.g. under "Books" a shopper can browse for Horror, Romance, Poetry, Science books. Do your best to connect potential consumers to the products or services they need.
Alt Image Tag
This tag is also known as alternative (alt) text. Here you describe what your image is about for search engines. They are not humans to 'see' pictures and can only rely on what you write in the alt attribute. Add an alt tag to your product and category images to make them better searchable. It's recommended not to stuff alt tag with keywords yet. The text should be clear, concise and descriptive.
Besides the SEO purpose, the alt attribute can be useful for human visitors. The alt text is displayed when the browser does not render images for some reasons or when a user hovers over an image. Also, screen reader software uses alt text to articulate what's shown on images to visually challenged people.
Applying Metadata Templates
For the most important pages, you can put the great part of your effort into writing well‐optimized tags. When the rest of your content has much in common, using templates for them can save your time and get rid of monotonous manual work. Nevertheless, it's better not to use the same template for items of different types. In such cases, create a unique template for each category, subcategory, brand, etc.
The Magento 2 Metadata Templates extension can implement all tags configurations for your store. Try the demo to see how the templated approach works.