As an e-store owner, you know that today's customers tend to make a thorough research when buying online. They want to find the best price offering available trying to spend less time possible. Thus being atop of the rankings with the relevant pitch is vital meaning you can't get away from SEO as a part of your e-commerce marketing strategy.
Magento 2 platform offers powerful native optimization capabilities. Making the most out of them is what you need to learn and start doing right away.
Wondering how to make Magento 2 product pages SEO friendly?
Here're the 5 most essential tips to check.
1. Avoid Having Duplicate Products
Whenever clients turn to us asking for marketing audit service of their store, duplicate products appear to be the most common issue we face. If you add the same product multiple times with different variation in size or color, you're on a slippery slope. One and same title for products produces multiple pages with the similar name, aka duplicate pages, on your Magento store. Google is not really happy about the idea of increasing the number of website pages in such a manner as considers that duplicate pages have no meaningfulness to visitors. Therefore, try to avoid having duplicate products in your Magento 2 store by either removing them or creating a unique title and description for them.
2. Use Long Tail Keywords
A long tail keyword is 3 to 5 words in it and is usually something people type in to find a specific product on the search engines. They are they're more specific and often less competitive than generic keyword terms. Adding a long tail keyword to your product pages is a proven way to boost your qualitative traffic on your Magento store. Yes, a thorough keyword research is what will help you to find the right keywords that work best for your products.
The best long tail keyword usually contains a [brand name]+ [product name]. E.g. PUMA Striped T-Shirts for Men, Nike Polo Printed T-shirt.
3. Add Meta Titles & Descriptions
Meta titles and descriptions of your products help the search engines understand what each page of your Magento 2 store is about so as to return the most relevant search result to users.
In you Magento 2 store you can add meta title and description via your Admin Panale by navigating to Products -> Catalog -> Select Product->. Search Engine Optimization: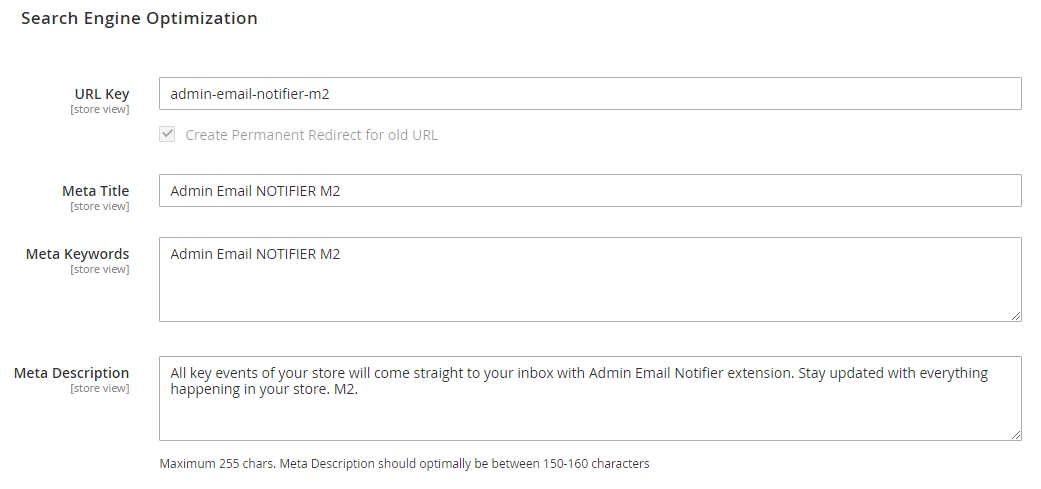 The most optimal size for meta description is 150 to 160 characters and 50 characters for the meta title.
4. Place Keywords In URL
When it comes to on-page SEO optimization of you Magento 2 store, it's essential to have your URLs containing a key word. It allows the search engines to read how relevant the page is to a keyword as well as which content this page contains.
To change the URL of your product pages in Magento 2 store, you need to add values in "URL Key" under the "Search Engine Optimization" tab.
Keep your URLs short, unique and having a keyword.

5. Use attributes to avoid duplication
If your products vary greatly in size, color or model, the best way to avoid product duplication pages is by adding and configuring attributes. A product attribute in Magento 2 is what helps you to specify product features. In general, anything that makes a product unique can be displayed via a product attribute.  But most importantly, it allows creating unique pages for each product which is the right approach for achieving a higher page ranking and savvy SEO optimization of your store.
For this, check Configurations section.

Summing up
Magento is a highly friendly platform with powerful native SEO optimization features designed to analyze your website according to a slew of parameters impacting the website visibility and rankings. Understanding all its nuisances might seem a dead lift for newbies, however.
There's more you can do to optimize your products in Magento 2 like adding unique product descriptions, image titles, or related products. These tips are the first and the most important step you can make to put you Magento 2 store on a friendly footing with the search engines.
Need magento development service more or want to optimize your store? Ask us about anything!