Your clients are most likely to leave an online review in two cases: when they are extremely happy or when they are completely and totally disappointed with you. And while you needn't to be an expert to thank for a grateful feedback about your store, responding to negative reviews is a delicate matter.
Have your online store got a one-star rating? Wondering how to better respond to customer complaints? First, take it easy. It happens. If you make it right, you can not only sooth the pain of a negative review but even turn it into a savvy marketing move that promotes your business.
And here's how.
Act quickly
If you sell online, you know the trick – everybody is watching. For this reason, it's important to react quickly when a customer leaves a negative review about your business. Putting this on the back burner won't fix the matter. An ignored negative feedback looks as if you humbly admit your fault and have nothing to say in excuse. It's not your case, right? Make your best to respond to your customer complaints asap.
Running a Magento store? Want to keep track of all important events? Try Admin Email Notifier. This extension will promptly alert you via email about new reviews, orders, subscribers or anything you want to know. Right to your inbox!
Nerves steel
Getting a negative review sucks. But no matter how deeply it offends you, never ever reply back impulsively. Even to most callous criticism. Even if it's ungrounded. Even if the truth is 100% at your side. It seems no brainer, however, the internet abounds with examples of replies to you may make things worse for yourself. The improperly chosen words can cause a snowball effect resulting in endless threads of "me-too" negative comments from the online crowd.
Take a couple of minutes to come down and only then start writing your reply. And no matter what - stay professional.
Show sympathy
Hardly there's anything more comforting than being listened to and understood. Warm up the conversation by letting your customers feel that you share their concerns. Show your sympathy by saying "We're deeply sorry to hear about your bad experience."
An important note. Try to avoid mentioning your brand name when replying to negative customer reviews. You don't want showing it up in Google Search, do you?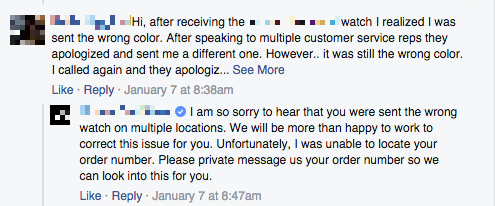 Address specific issue
The best apology is changed behavior. Acknowledge what you did wrong and say what you are doing to fix the issue. A customer didn't get his product on time? You are sorry to hear about the spoiled party, and you are now taking a closer look to meeting the deadlines. You (not him) might contact the delivery service to ask for the explanation why his purchase had been delayed. Or you're already working on adding a new field to your order form. The next time the customer would mark the order as urgent, and you could instantly process it and ship faster.
Approach personally
The best way to reach an agreement is to start a dialog. When you are moving the conversation offline, you kill two birds with one shot. First, you already know the customer's troubles and can think how you can make it better by offering compensation. And live conversation won't let it seem bribery. By talking to a disappointed customer in person you'll avoid an unneeded discussion online which doesn't have a positive impact on your brand.
Provide your contacts so that the customer could give a call at any time or ask him for his contact details.
Examples:
"My name is … and I am the (Owner / Manager). I'd like to discuss this issue with you and together think of possible ways how we can resolve it for you. Please get in touch with me [phone number / email]."
Summing up.
A happy customer will tell about your store to his friends. An unhappy one will tell everybody. A timely and carefully thought response to a negative review is only half of the deal. Another and most important one is preventing negative customer reviews by analyzing your business and constantly improving the gaps.