Compatible Version
Community 2.2, 2.1, 2.0
All key events of your store coming staring to your inbox
Stay updated with everything happening in your store.
Get customizable email notifications right to your inbox.
Select email template for each event.
Specify multiple recipients.
Enable\disable notifications to keep track of only relevant events.
Searching for the way to accelerate your e-store daily management process? Admin Email Notifier allows you getting custom email notifications about what's really important to you without having to constantly check Magento admin panel.

How it works
With Admin Email Notifier reaching full control of your store is a matter of few clicks. All you need is to open the Admin Notifier main (and only) window and mark the types of events you'd like to stay in the know. Save and close. Now everything which matters to you will go straight to your inbox allowing you to view the information about this event immediately.
Has a new order been placed? View the sum, customer's name, and status. A customer left a negative review? Resolve the issue without putting it on the back burner until other customers would read it and change their purchase decision.
The extension is simple yet solves two major problems every administrator faces:
You don't have to run your Magento admin panel in the background all the time to make sure you are not missing something important.
You ARE NOT missing anything important!
In addition, for each type of event, you may choose a template and specify a separate email address. Thus if you have multiple admin users, you may rest assured that only the right people in your team are alerted about the right event. 
Main Features
SINGLE-WINDOW CONFIGURATION MENU


All settings are made within a single window where you select the type of events you'd like to keep track of, e.g. new order, customer, subscriber, etc, and specify the e-mail address where it's going to be sent.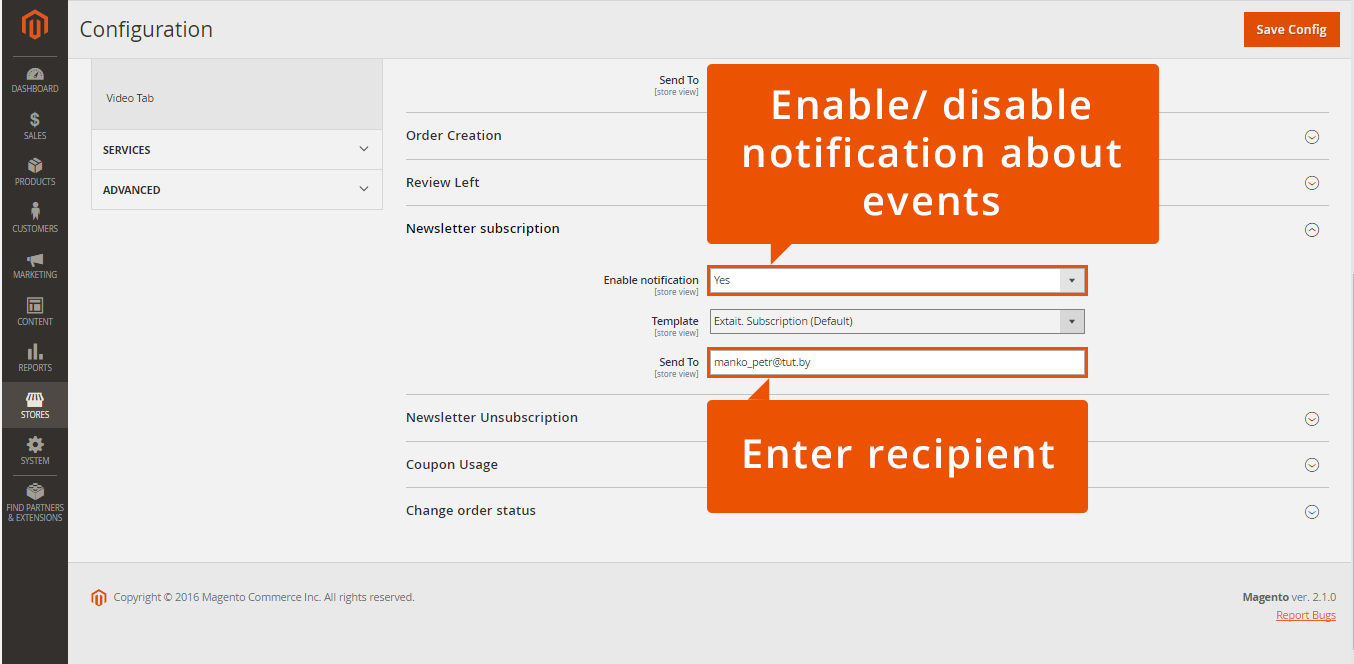 ALL ESSENTIAL TYPES OF NOTIFICATION


Choose which types of notifications to receive.
New order has been placed.
The status of the order has been changed.
New customer has been registered.
Reviews left.
Get notified about new tags (only Magento 1).
A discount coupon has been used.
New contact subscribes to your email list.
A contact unsubscribed from your newsletter.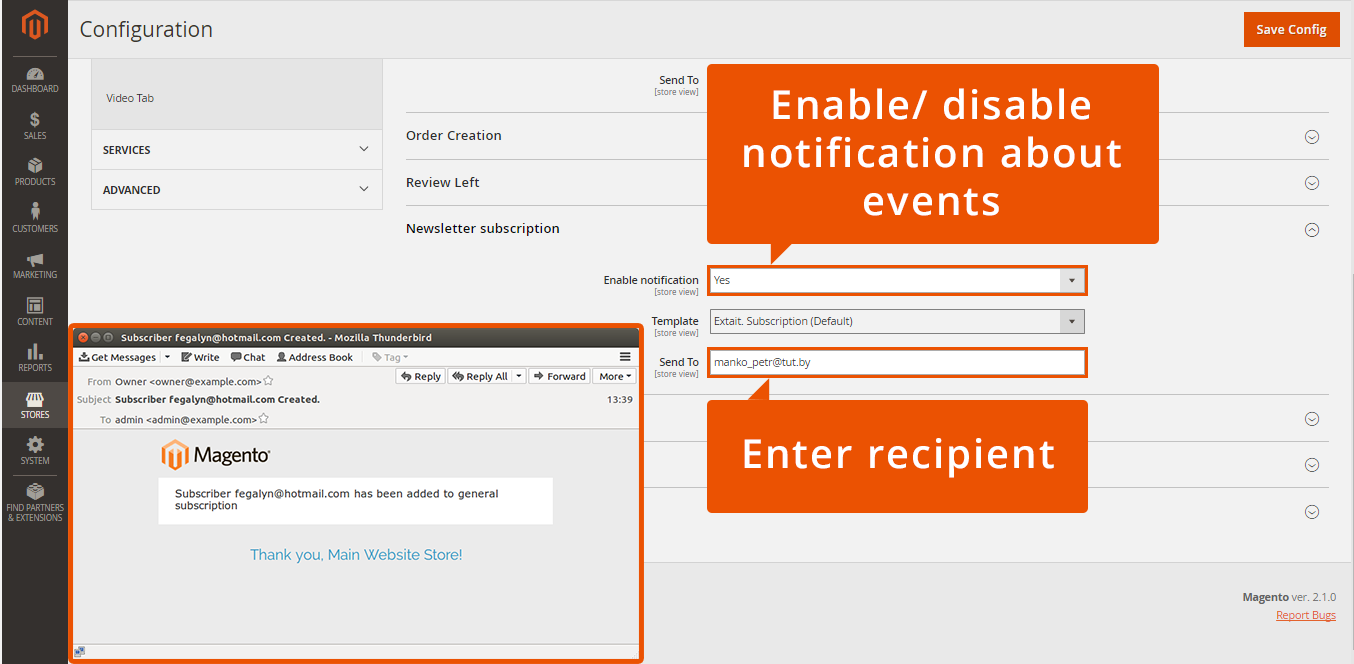 CUSTOM E-MAIL TEMPLATES


Create your own e-mail templates for each type of response. Add them once to your Admin Email Notifier and always reply with a relevant message.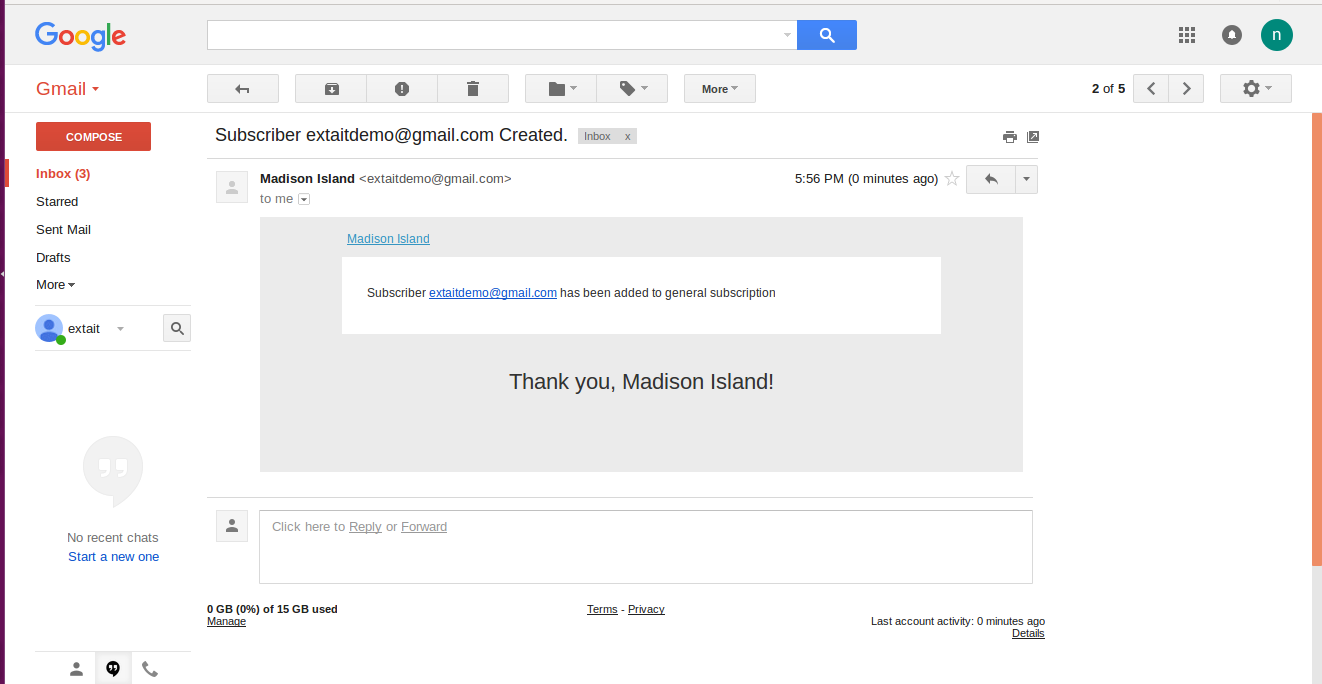 Changelog
NOVEMBER 22, 2017 (VER. 1.1.0)
Refactoring, adding of unit and integration tests
JULY 05, 2017 (VER. 1.0.4)
Several minor bug fixes
MARCH 17, 2017 (VER. 1.0.3)
Initial version