From the very start, live chats on e-commerce websites were seen as an optional thing, an addition to communication via phone and email. A user could choose the most convenient way of interaction with the company, rather than thought that a chat is a really necessary, effective and useful tool.
Today, with the development of social networks and messengers, things have changed. Most customers find it user-friendly to type a message to a sales assistant instead of making a call or waiting for an email.
According to one research

, the average time for response via email takes longer than 12 hours! With such time delay, it's easy to frustrate and lose your customers.  To improve response time is simple – use a live chat.
Chat volumes are projected to increase at a compound annual growth rate of 24% from 2014 to 2018.

53% of customers would prefer to use online chat before making a call for support.

82% of customers would like to use live chat on mobile devices.
What are the benefits of face-to-face-like real-time communication?
You can gain a competitive advantage and the potential to increase sales. Speaking with your customers in real time gives you the chance to help them to resolve doubts and reach the right buying decision. As for customers, it's like having a sales assistant by their side.
Moreover, this helps to establish trust. It's human nature to be skeptical of things you don't know. But, with a live chat, you can have direct interaction with your buyers that allows you to close the difference between online and offline purchases.
You can gather feedbacks, contact information and other data to enhance your marketing strategy. There are different integral and connected analytical tools for live chats to see the productivity of your team and the behavior of website visitors.
Another benefit is that you can respond to multiple customers in a moment. Once again, it reduces response time. And what is more, it cuts your support costs. Why? Because if one member of your team can manage several conversations at once, you need to hire fewer people to handle customer service requests.
Consumers claim that live person assistance during the process of making purchases online is one of the most important features a website can offer.
Now let's take an overlook of 5 popular chats you can use on your Magento store:

ClickDesk is more than a simple live chat solution, you can find it as an all-in-one product.  It is a text-based live chat that also supports voice and video conferencing via Skype and Google Talk. As well, ClickDesk includes built-in help desk and possibility to integrate social media buttons directly within a chat window.
ClickDesk has various event triggers and chat options like automatic greetings, canned responses, but to disable this functionality you need to delete them.
Nevertheless, ClickDesk offers no live analytical information. Design customization is more limited than on other platforms. There are only several pre-made themes. 
To get started: You can use ClickDesk free for 10 users and with not all functions.
Comm100 is also very customizable. You can configure any detail like the chat button and window fields, color scheme as well as greeting messages, etc. to suit your brand.
It poses such features as unlimited chats, real-time visitor monitoring, integrating of your Facebook pages and Twitter accounts within chat dashboard and others. The platform is very flexible as any of these functions can be easily enabled/disabled if you don't really need them.
Comm100 offers a wide variety of reports ranging from the overall chat handling situation and agent performance to the conversions statistics. 
To get started: You can try this live chat for free just for 15 days.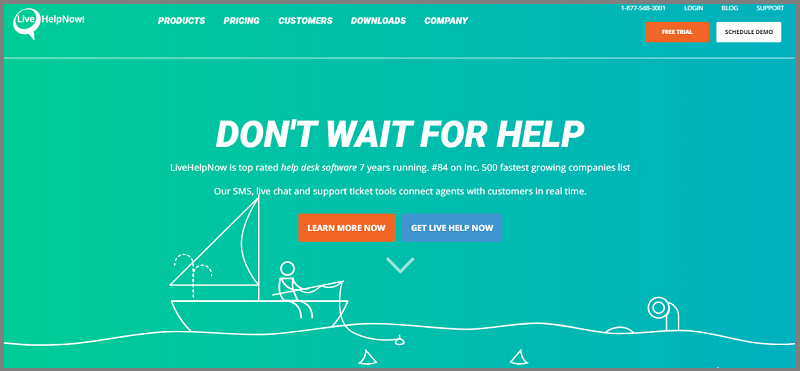 It's a feature-rich live chat. The platform offers support service, including an email ticketing system, an FAQ builder as well as call management option. These features are helpful for agents to quickly and easily get access to information.
LiveHelpNow also supports SMS chat for those customers who prefer remote interaction. Moreover, it has its own analytical reporting including customizable post-chat surveys but also integrates with Google Analytics. By this, you will show at what points your customer team is succeeding. 
To get started: LiveHelpNow offers a 30-day trial with all features. While buying the service, you indicate the number of your agents and choose the functions you need.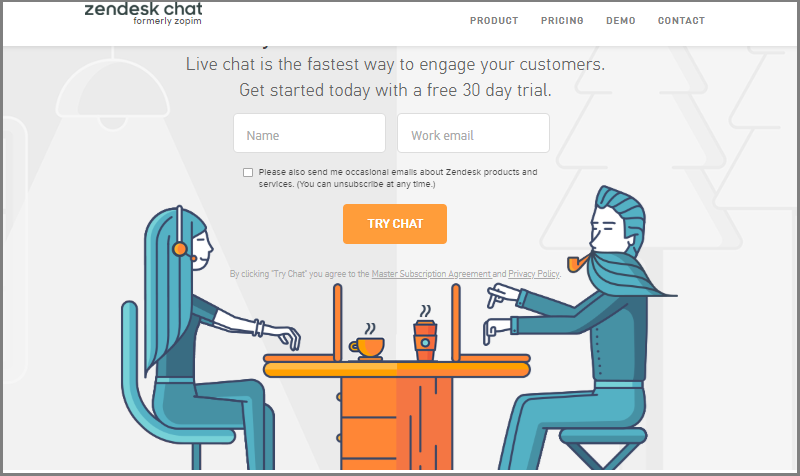 Formerly known as Zopim, now it's a part of Zendesk product family. Many ratings consider it the world's leading live chat solution.
This chat is fully customizable. It's possible to choose a template and adjust the design up to your website.
Zendesk also provides you within-platform analytics. For example, track your staff productivity; know what pages are the most frequent for visitors to start a conversation and much more.
The chat lets monitor chat logs and their volume as well as other data over time. With a wide gamut of analytical features, you can easily anticipate customer needs and increase the satisfaction level.
Moreover, Zendesk is quickly and easily to set up and it will work flawlessly. If you want a comprehensive live chat option, this could be a fine solution.
To get started: Zendesk offers a 30-day free trial to discover all the features so that after it you can select a suitable package for your needs.

SmartSupp is a standard live chat option. Yet, it's a little bit more than average program. The chat lets you record and monitor visitor mouse movements and clicks right from the agent dashboard. So evaluating the reaction of interested visitors makes it easy for you and your team to actively chat with them and anticipate their wishes.
SmartSupp also includes a mobile design, so that you can answer users' questions on your phone, which is a good advantage while on the go. As well, the platform offers basic automation, letting you automatically send personalized messages.
One more thing that stands it out is the video recording capabilities to see what your visitors do on your website.
With all monitoring options, SmartSupp is limited a bit in branding up to your design compared to the other chats and lacks a call option to enable.
To get started: You can get a standard version free for 30 days or use a free package with the unlimited number of agents by creating an account.
So if you've decided to implement a live chat, don't expect that it will be a marketing all-task solution. It is rather a way of providing customer service that improves answering questions or directing inquiries.
Yet, only when used strategically, a chat platform can become an integral channel to boost your business by building loyalty, convincing users to take action and getting regular customers. It's a little widget that has power.
Choosing the right live chat for your e-store can be an overwhelming task. We hope you find our article helpful. Anyway, you have some goals and preferences to build up your choice.
We see Zendesk as the most suitable option to see live chats capabilities in practice. With the full-featured 30-day trial, you can discover the feature set and understand what you'd like to use in the future.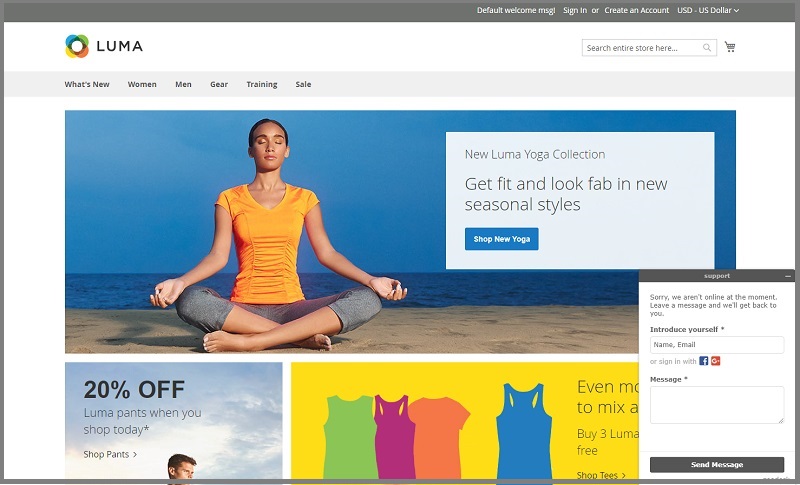 To try it now in Magento store, download our free extension which gives the opportunity to insert the chat script.