6 years. 30+ Magento experts. 150+ projects delivered.
87% Avg client's profit growth.
We have an exciting story to tell.
It all started with an ambition and desire to create. After Magento 1.0 release in 2008, we couldn't stand aside and watch it taking the e-commerce world by storm. Powerful. Flexible. Open-source. We knew Magento platform was doomed to take e-commerce to a new level.
We wanted to be part of that process. And we made it.
Setting off in 2010 as a team of Magento enthusiast, Extait has come by today as a full-cycled Magento development company of 30+ professionals helping companies across the globe to become more efficient, using Magento development capabilities to better meet their customers' needs.
Clients' success stories
With the constant pursuit of perfection, we've never settled for the average. Sophisticated solutions, client's higher conversion rates, excellent performance, top-notch customer support, – we challenged ourselves intrepidly setting the new standard for our own vision of the front-rank Magento development service.
Six years of intense work has passed brimming with engaging projects for our customers all over the world. Our clients experienced the average 87% profit increase – we were thrilled.
Inspired by such a smash success, we felt being ready to share our hands-on experience with the online community.
A-class extensions to bring proven business growth
We turned our vast experience and best practices into the turnkey Magento 2 extensions, proven to bolster your e-commerce business growth. Tried and tested, aimed to resolve most pressing pain points of online retailers, all extensions listed in our store have been implemented into real businesses and showed real benefits.
What's now
Today, we are totally driven to create best Magento 2 modules that will make our clients successful. We don't make empty promises and focus only on delivering result. We try to understand the demand and design solutions that address it.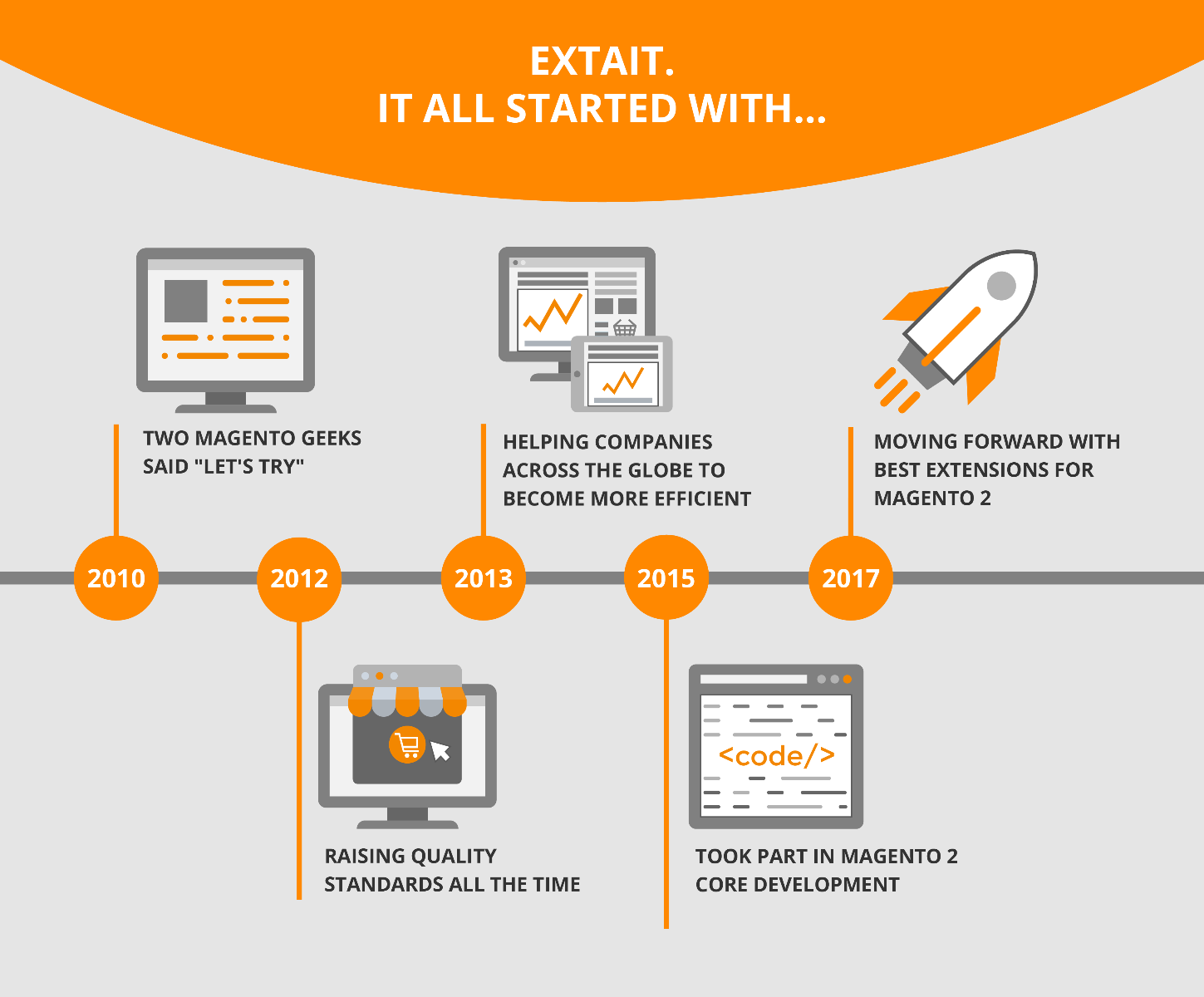 Stay with us!
Extait Team.